Development and Construction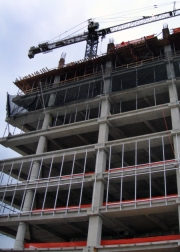 When there is no property to fit your needs – build it. That's the logic we maintain here at Guardian Commercial Lending. Seriously though, why settle for something under par, when you could put together a development plan and potentially generate a handsome investment return in the process?
Additionally, the same theory could apply when there is excess demand for an under supplied commodity. With an ever expanding population and corporate landscape, there is always the potential for a successful development project – assuming that the ground work and planning stages are done with sound professionalism.
That's where Guardian Commercial Lending comes in. Having handled many construction project in the past, we know what investors and developers need from a financing company.
That's why all of our products come with the following:
– Expert advice from a Guardian consultant
– Frequent communication to ensure the flow of your project
– Advanced solutions for complex projects and scenarios
– Last minute financing (and refinancing) deals – should you require them.
Gone are the days of wishing you had a financing partner on your side. You just found one.
Contact us today for a further insight into our development and construction loans, and experience our industry leading support first hand.
Options:
One-Time underwriting for ADC, mini-perm, and permanent loan and one-time fee
Aggressive LTC's up to 90%
Wide-range of acceptable property types